This post may contain affiliate links. As an Amazon Associate I earn from qualifying purchases at no additional cost to you. Please read our disclosure for more info.
Let's be real… right now, so many people are staying home day in and day out. The cases of the home renos have been crazy high since March and everyone is finally getting around to those home tasks they have had since 2012.
Even though we may not be getting together with all of our loved ones this holiday season, it doesn't mean that we cannot give them a gift that shows them how much we love them. Giving an item that they have always wanted in their home or giving them something that you know they would love to use every day can make this holiday season so much more bright.
Home Décor Gift Guide
Echo Show 8


This is an amazing gift! We have our Echo Show in our kitchen and have echo dots in each of the bedrooms. It is so great to have because we can look up recipes, find answers to any questions we have, connect to the dots to check in on the kiddos, we have it connected to our home cameras so we can easily check if there is movement, and it is so great for our dance parties (which is currently repeating "baby T-Rex" by Pink Fong or Michael Jackson).
2. Bose QuietComfort 35 II Wireless Bluetooth Headphones
* Get $100.00 off during the Black Friday deals now!*
3. Mkono Wall Hanging Glass Planter
4. Furbo Dog Camera: Treat Tossing, Full HD Wifi Pet Camera and 2-Way Audio
5. InnoGear Diffuser with Essential Oils
6. Ninja Hot and Cold Brewed System – with Auto-IQ & tea basket
This is a fantastic gift for any coffee lover! My husband and I just purchased this about a month ago after our two-year-old $30.00 coffee maker died. We were planning on getting a new one soon anyway and had been doing so many weeks of research and every time we kept coming back to this one and we are so glad we got it!
It comes with two baskets (one for coffee and one for tea), a frother, either a glass carafe or thermal (we chose glass just because we liked how it looked better, and a recipe book. It is so worth it if someone is a coffee and tea lover!
7. Chef's Path Airtight Food Storage Container Set
8. Creative Co-Op Round Hammered Metal Bowl
10. BISSELL ProHeat 2X Revolution Pet
This is a great gift for those who have pets and/or a house full of kids! My husband and I got sick of running out to our grocery store to borrow a carpet cleaner that barely did a good job and finally bought one and it has paid for itself 12x over since we got it just a couple months ago!
It is so dang good! It has 3 different cleaning options which are fantastic for if we need a quick clean up or when I am doing my deep cleaning routine. It even got the stains out that were in the carpet from before we moved in! It is such a great buy and works wonders!
11. PetSafe Smart Feed 2nd Generation Automatic Dog and Cat Feeder
12. NFL 100
13. Ninja FG551 Foodi Smart XL 6-in-1 Indoor Grill with 4-Quart Air Fryer Roast Bake Dehydrate Broil and Leave-in Thermometer
14. Christopher Knight Home Lenox Oval Mod Rotating Wood Coffee Table
I am planning to buy this coffee table for our living room after our new couch comes in and I am so excited! I know it will be the perfect addition to the room!
15. AmazonBasics Silicone, Non-Stick, Food Safe Baking Mat (set of 2)
Anything that involves baking items always makes my heart flutter! I have a baking and pastry arts degree and I love anything that has to do with it!
16. Seville Classics Airlift Tempered Glass Electric Standing Desk with Drawer
17. Wilton Countless Celebrations Set, 10-Piece Letter and Number cake pan
18. Copper Chef Perfect Eggs & More C Electric Cooker Set-7 or 14 Capacity
19. Chefman Electric Wine W/Foil Cutter Opener
20. SodaStream Fizzi Sparkling Water Maker Bundle
21. Kitchenaid Professional Lift Bowl 600 Stand Mixer 6 quart
22. Brother P-touch Label Maker
My husband is trying to convince me that I don't need a fancy label maker but this label maker makes it so hard to not feel like I need it!
23. PetSafe Healthy Pet Water Station
This water station is so great! We bought it for our pup and cat and they love it! We grabbed the large because our dog is nearly 70lbs so we wanted a big enough one that would work great for them to share and it works wonders! We fill it up about once a week and it is so easy to use! We love it!
24. Greenco Hand Crafted Rolling Pin Marble
25. Libbey Mixologist 18-Piece Bar in a Box Cocktail Set
26. Cuisinart WAF-F20 Double Belgian Maker Waffle Iron
Our kiddos LOVE our waffle maker. It has seriously changed the waffle making game for them and I love it! We use this at least once a week and always a go-to for a quick, easy and filling breakfast!
27. HOSROOME Nice Butt Bathroom Decor Box Toilet Paper Holder
28. TenXVI Designs Decorative White Books
29. KitchenAid KHB2571SX 5-Speed Hand Blender
30. Ecowaare Set of 15 Reusable Mesh Produce Bags
31. Gotham Steel Hammered Copper Collection – 15 Piece Premium Cookware & Bakeware Set
32. Bamboo Cheese Board Set With Cutlery
33. SHARPER IMAGE Light Up Electronic Word Clock
34. Home Spa Gift Basket – Honey & Almond Scent
35. Wall Mounted Wine Rack – Bottle & Glass Holder
36. Stainless Steel Knife Set with Block
37. Zevro /GAT202 Indispensable Dry Food Dispenser
38. Moscow Mule Copper Mugs – Set of 4
39. BirdRock Home Chip and Dip Serving Bowl Set
So this is officially on my husband's Christmas list! He saw this and instantly loved it! We love our chips & dip and this fits us perfectly!
40. Ninja Blender and Food Processor System
My husband and I are in LOVE with our ninja processor system! We use it to make so many different recipes. Our kids love when we make them smoothies or ice cream and we love to make our amazing spicy jalapeno hummus spread or fresh salsa. So many different things and this system is so powerful!
41. LOMAO Sherpa Fleece Blanket
42. CASOFU Burritos Blanket
Because, why not? And yes, I do believe I saved the best for last! haha!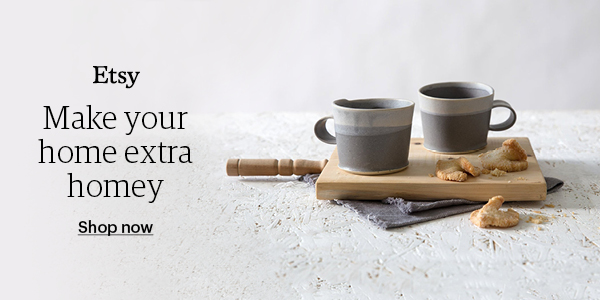 Give your loved ones something special and meaningful for them this holiday season. With people spending more time at home than most did before, help them make it, even more, better by giving them something they will truly love and enjoy!
I hope you found this Gift Guide – Home Edition helpful and maybe even found some things you'll add to your holiday gift list! I know I sure did!
xoxo,